Legendary performers leave lasting impressions
By Albert Caruana, ca.milesplit.com
(Clovis, California) - It was fitting that on an evening where one jaw dropping performance after another wowed the Clovis crowd, the final running event of the meet had a 10th team placed very strangely behind the other 9 qualifiers from the previous evening. Score one more for something you have never seen before. Aside from that interesting bit of officiating, this was a statement meet for several graduating superstars.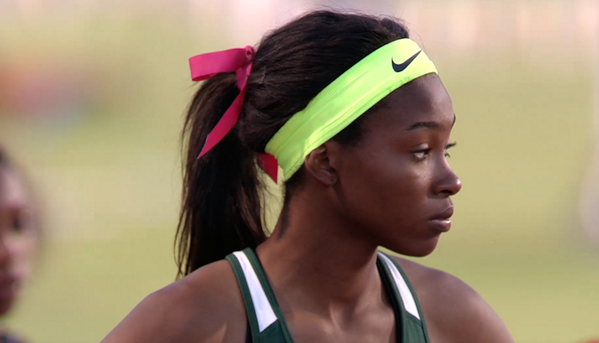 Leading the way for the aptly named Jackrabbits, Ariana Washington of Long Beach Poly already had a resume that rivaled some of the all-time best sprinters in state history. Just in case there was any doubt she belonged, Washington anchored the winning Poly 400m. relay team to national leading 45.19. She came back to win the 100m in her fastest wind legal time of 11.22. She saved her best effort for the final event when she dipped under the 23 second barrier for the first time with her 22.96. That makes 3 straight years of double victories in 100/200 for Ms. Washington who now joins Marion Jones as the only athlete to accomplish that feat (Jones did win both sprint races all 4 years). Washington's 30 points were enough to win the team title on their own but her team ammassed a grand total of 70 in coach Don Norford's final season. That makes 14 team title for the girls and 5 for the boys. According to Cal-Hi Sports, Norford's 19 track and field titles is more than any school's CIF titles combined in any sports.
The most impressive male performer may have escaped the view of the fans who kept their focus on the track but remember folks, it is afterall Track AND Field. Castro Valley's Nate Moore (picture courtesy of Eric Taylor) won the long jump and triple jump last year setting up an unlikely double victory in both events, two years in a row. How unlikely? Try, it has never happened before. The triple jump first made an appearance in the state meet in 1939 and for some odd reason didn't return to the state meet lineup until 34 years later in 1973. Since that year, no jumper had been able to repeat as champion in both events until Moore today. He left little doubt in the triple jump with 5 jumps over 50 feet including a lifetime best effort 51'4" (wind aided) on his 5th attempt. He made quick work of the long jump as he soared to 24'7.75" on his first attempt. He coasted through his next few attempts before popping a lifetime best legal jump of 25'8.75" on his final attempt. There is now a new standard to chase in the horizontal jumps and his name is Nate Moore.
Stamatia Scarvelis of Dos Pueblos won the state meet shot put as a sophomore and junior. With her 3rd win today, Scarvelis is now one of two shot putters to have won the state meet 3 consecutive years along with Natalie Kaaiwwahia of Fullerton who won the shot put 4 straight years from 1980 to 1983. She dominated the field today as she has all season with 6 throws better than the second place finisher, Mackenna Howard of Los Alamitos. Her final throw of 52'2" is only surpassed by 3 throwers in state meet history. To wrap up her outstanding, undefeated season, Scarvelis also won the discus for the first time with a best of 163'7".

The story has been told many times but Mater Dei's Curtis Godin dabbled in baseball for two years before making his way to the track as a junior. He emerged as one of the leading sprinters in California as a senior and cemented his name in history by pulling off the 100/200 victory today. He dominated the 100 field with a near personal best of 10.31 although his 10.29 earlier this season was also wind aided. The uber competitive Godin got his revenge against rising star Michael Norman of Vista Murrieta in the 200 after a rare loss last weekend. Godin stormed out of his blocks and around the turn to gap Norman enough to claim his 2nd title in 20.87. His 20 points along with points scored by teammate Malik McMorris, helped Mater Dei win their first track and field title. Hopefully that trophy won't get lost among the many won by the basketball team in the past three decades.

Several athletes were also chasing history but despite courageous attempts came up a bit short. Anna Maxwell of San Lorenzo Valley was attempting to become the second female runner to win the 1600/800 double since Kathy Costello of Pleasant Hill in 1975. Maxwell led the 1600 in customary fashion but this time had two runners gamely hanging on to the hot pace, Destiny Collins of Great Oak and Sarah Robinson of Gunn. With 250 to go Collins and Robinson appeared to make a move on Maxwell which resulted in Collins and Maxwell going down in a heap, leaving Robinson on her feet and with her first state championship. Collins was able to scramble to her feet and finish 2nd while Maxwell cruised in 11th place. With just a little over an hour to recover physically and emotionally, Maxwell came back to claim 2nd place in the 800 behind impressive junior Mikaela Smith in a lifetime best 2:08.32. Smith's winning time was 2:06.85.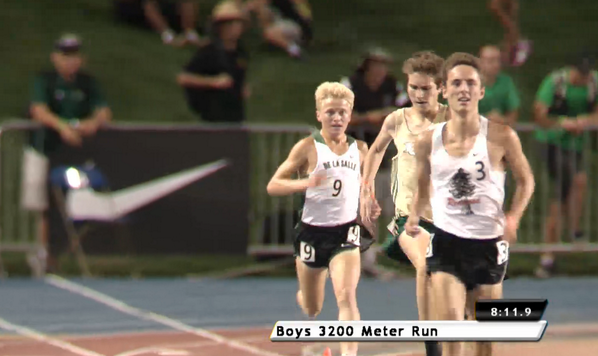 Blake Haney of Stockdale has been one of the best runners in California since his freshman year when he ran 4:12.34. He won both distance events last year against tough fields and was attempting to become the 2nd runner in California history to repeat as 1600/3200 champion. The only other male to accomplish that feat was Roman Gomez of Belmont in 1984/1985. Haney was impressive in 1600 as he ran his usual comfortable looking race before taking over masterfully in the last lap and win with a time of 4:08.52. Just as California Chrome had come up short earlier in the day at the Belmont Stakes vs. a rested group of horses, Haney had a formidable task of winning the 3200m against talented group of runners taking on their first race of the weekend. It proved to be too much for Haney as Blair Hurlock of De La Salle broke the race open in the 2nd mile before Redwood runner Fred Huxham (above leading couresy of usa.milesplit) took over and completed the victory in a personal best of 8:54.24. Haney finished "in the money" in 3rd place and perhaps gained more respect in his record attempt.
The meet will also be remembered for the spectacular debuts of two freshmen girls who posted two eye opening performances. LB Poly freshman Kaelin Roberts chased Menlo senior Madeline Price who was just outside of her in lane 6. With a worthy opponent, Roberts posted a lifetime best time of 52.52 which leads the nation outdoors. Fellow freshman, Reonna Collier of Piedmont Hills quietly finished in 4th place in the short hurdles before loudly making quiete a statement in the longer hurdle race. Collier bested a veteran group in the 300m. hurdles with a new national leader, 40.90. They battled later head to head in the first leg of the 1600m. relay and fittingly ended their day handing off to their respective teammates about the same time. Definitely two girls to watch for the next three years.

Other performances of note. Sophomore, Mecca McGlaston of Dublin (picture courtesy of SF Chronicle) won her first 100m. hurdles victory with a well timed start and new personal best of 13.54. Millikan senior, Misana Viltz reversed the results from last year and defeated rival Marquis Morris with lifetime best 13.47. Morris came back to win 300m hurdles in 36.86 after not participating in the longer hurdles the previous season due to a DQ at the NCS area meet. Northwood's Bethan Knights took a shot at Kim Mortensen's national record but came up short with a gusy 10:00.19, a spectacular mark considering the heat and hot early pace. Robinson and Collins recovered nicely to finish 2nd and 4th behind Knights. Carl Johansson of Orange Lutheran won the pole vault with his first ever clearance of 17 feet. Eric Moore of Carter became the first repeat champion in high jump since Cole Herron of Sanger in 2002/2003. Dotun Ogundeji of Madison made up for not qualifying to discus final by winning shot put in 65'5.5".
Overall, just another tremendous display for arguably the most competitive state meet in the country. With the departure of one of the best class of seniors in history, it appears the state will continue to be in good hands and that group of track athletes will now have new achievements to chase following this year's meet.